Cigar Sense is the new way for lovers of fine cigars to discover cigars which will delight them. Not everybody cares for cigar recommendations. If you do, we provide the most accurate personalized, expert advice to help you identify new cigars you'll love.  Our methodology allows our system to "learn" your unique, individual taste preferences, and then give you cigar recommendations  which match them.  We're able to do this thanks to a few key factors:
Our technology includes an inference engine which learns about your preferences as you interact with it, and an expert system which matches your preferences to cigars we've evaluated.
Our cigar database is fed by the assessments of our panel of international tasters, who are trained according to sensory analysis principles.
Your journey with Cigar Sense begins when you register and take a brief introductory survey.  This gives us your initial general taste preferences, which get refined each time you tell us about a specific cigar you've smoked.  Whether you liked or disliked it, all input is useful, as it helps us learn more about the characteristics you seek in a cigar.  The more input you give us, the better we can refine your preferences to zero in on your sweet-spot. 
With your preference profile in hand, our cigar matching engine searches our database of expert cigar analyses to find the cigars with the best degree of fit to your preferences.  Cigar Sense  updates your recommended cigars in real time, whenever you give us more feedback on a specific cigar, or we add new cigar evaluations to our database.  You can view your cigar recommendations anytime (even on your mobile) on the User Home page, sorted by how well they fit your personal preferences. There you can drill down into each cigar to see details of its Cigar Sense analysis.
We give you a visual representation of the fit of each recommended cigar to your preferences.  Our "fit" charts show side-by-side your preferences with the expert analysis of the cigar you're viewing, so you can immediately see how well it suits you.  When you decide you want to try it, we can help you find a local tobacconist or an online retailer offering the cigar.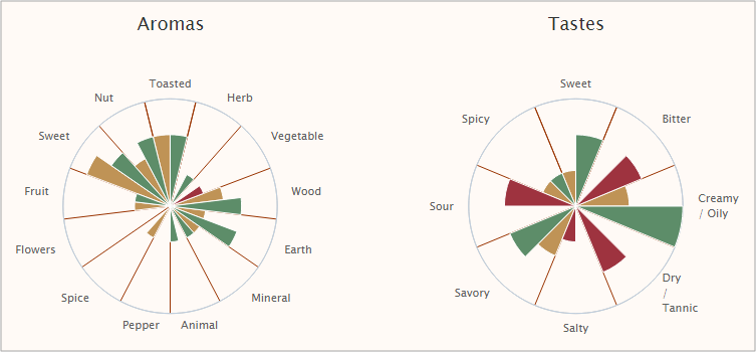 We also give you the ability to record your own personal User Tasting Notes.  This feature lets you tell us how much you liked or disliked each cigar you've smoked.  Our Profile Advisor then analyzes all of your feedback, and suggests changes you may want to make to further refine your preference profile.  Over time, with your profile dialed-in to your sweet spot, you'll find Cigar Sense is hands-down the most reliable predictor of whether you'll enjoy a particular cigar!
87% of cigar lovers state that "flavor" is the most important consideration in choosing a cigar.
If you agree, then Cigar Sense is for you.